On a mission to empower the disabled through sport
http://bereamail.co.za/117708/on-a-mission-to-empower-the-disabled-through-sport/
Local non-profit company, Made for More, aims to serve and empower people with disabilities.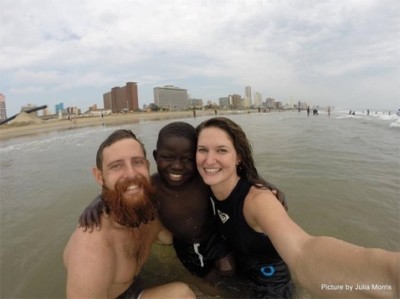 A love for children and sports development led local sportswoman, Julia Morris to turn her passion into creating a non-profit company, Made for More, which serves and empowers people with disabilities.
The vision of the company is to see restoration, revival and hope in disabled communities, guiding and empowering them to discover their abilities, worth and divine purpose through disability sport, whole life coaching, leadership and sports camps and community projects.
The seed was planted while Julia was working as a PE teacher at the Open Air School for the physically disabled. "I saw a need to invest in so much more than just education and sport. I discovered that there was a deep longing to know and be known more holistically. These children were my inspiration. As my relationships grew with the children, a deep yearning for them to know that they were created for more began to stir in my heart. I knew God had put this on my heart, and the rest is history," she said.
It was while working one of her students, Ranetsi Manyoni, that Julia saw for herself the affect that sport had in transforming his life physically, emotionally, mentally and spiritually. "I wondered why it should stop there," she said. Made for More uses sport as a vehicle to bring hope, build relationships, and instill morals and values, while equipping and giving athletes the opportunity to pursue their sporting careers provincially and on a national level.
"When coaching, we don't just focus on a physical, one dimensional level, but we seek to go deeper and to invest in the heart of the athlete. We desire the children to break from society's conformities and stigmas about who they are and what they can do, and discover that that are made for more," she said.
The company offers children high performance coaching and chaplains to elite sportsman and existing teams within the province of KwaZulu-Natal and South Africa. Julia and her team offer structured educational and value based activities and exercise programs for children with disabilities within schools and existing organisations around the province. They also hosted Disability Awareness Days within the community as well as elite sport camps that focus on three dimensional coaching on a physical, emotional and spiritual level. Julia also teaches adaptive surfing, which teaches children water skills and how to body-board and surf, as well as swimming lessons and water safety for people with disabilities.
"We focus on using sport as an access tool to the heart, creating hope in these children. We use sports created specifically for them to enable them to thrive and come alive. It is amazing to see. From there we dig deeper to enable the children to encounter God's love," said Julia.
The offices are based in the Blue Roof life space in Wentworth, a partnership which allows Made for More to extend its service delivery and offer a wider range of help and healing services. Through this partnership, Julia is now also able to offer clinical and psychosocial support for people with disabilities, access to career support, which is especially needed and helpful for people with disabilities, and a platform to enable the youth to learn through art, dance, photography, film workshops, music and sport.
The company will host a fundraising golf day on 4 November at Scottburgh Golf Course.
Golfers are encouraged to support this event, as fundraising is necessary to keep this company going. The format is a 4-ball alliance, two scores to count. Cost is R800 per 4-ball, with R500 hole sponsorships.
If you can help with donations of prizes in identical fours or to play in the golf day, contact Linda at 039 976 0041 or admin@scottburghgolf.co.za.